Mindset Shift
"Sierra's Mindful Carrot 6-Week Program is an entire mindset and lifestyle shift - for the better - and Sierra is there every step of the way, guiding and coaching you. She approaches everything from such a holistic place and I feel stronger, more energized, happier, and for the first time in my life have a healthier, more balanced relationship with food.
"Other exercise or 'nutrition' programs I've taken part in in the past have felt restrictive, stressful and unsustainable. This is completely different. I'm walking away with tools to approach food and wellness that are clear, concrete and have a focus on nourishing (not depriving) both body and mind.
"I can't recommend it highly enough - the price is incredible for all that you receive. It's an investment in your health and overall well-being that is truly priceless.
- Elena W.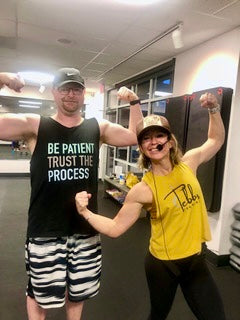 Lost 21 pounds!
"I recently traveled over 100 miles to take Sierra's Mindful Carrot course and I lost almost 21 pounds in 6 weeks!
"She offered 2 classes a day Monday-Friday and I took on average 3 classes a week, and got in some good cardio burns like tennis and Cyclebar.
"Sierra is extremely knowledgeable about your body's health and fitness needs; patience and accountability are her strong suits. She lays out the groundwork in detail for a successful, slow and steady pace into lifelong health and wellness. All I had to do was have a positive mindset and be willing to work a little to make the long term changes that were advised to me. Her classes are sometimes outdoors in the fresh air, and sometimes at Tebbs studio, always fast paced and with upbeat music. 
"I would highly recommend this course to anyone willing to have an open mind and a desire to make mindful changes in their life for their health. The price when you include all the food prep items you get to use are an excellent value! 5 out of 5 stars!"
SIncerely,
Jeremy H.